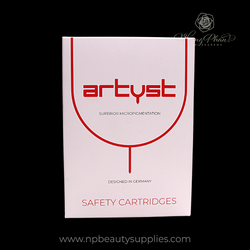 NP Beauty Supplies
Artyst™ Cartridge Needles
The Artyst™ safety cartridges have been exclusively selected and tested by the best permanent makeup artists in the world.
All Artyst™ PMU needle cartridges are equipped with a safety membrane to prevent the backflow of colors and bodily fluids entering the machine and the associated cross-contamination
The manufacturer of Artyst™, has invented and patented (patents US 8,029,527 / EP1618915 / US 8,770,542/ US 6,345,553) this technology as well as introduced it into the market through many different brands and products around the world many years ago.
*Use code: nhungp5 to receive 5% off.
*Ongoing promotions are not applied to this product.