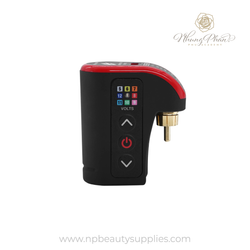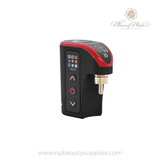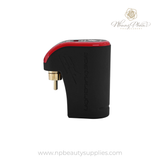 NP Beauty Supplies
LightningBolt Battery Pack
The most reliable and user friendly battery pack is here to make your life easier.  Small but powerful, the LightningBolt is sure to make your art better. With a lightweight design, friendly user-interface and an ergonomic design, the LightningBolt was made with the artist in mind. The LightningBolt battery pack was made to help captivate your art effortlessly. 
Immerse yourself in art with a wireless tattoo battery pack that turns your tattoo machine wireless
Connect to Bluetooth and pair with the DarkLab mobile app to enable a host of features and receive firmware updates. Features include changing voltage through voice
Ideal for Microbeau's Xion S

Battery can last up to 10 hours with only 1.5 hours of charge time
Charge your battery pack in any USB-C port, including your car, airport, or laptop. Perfect for the traveling tattoo artist or when you attend a trade show
Software and hardware work seamlessly together to provide you the best experience 
Operates from 5 volts to a maximum of 12 volts 
Only 3 buttons that allow you to check the battery, enable Bluetooth, increase and decrease the voltage, check battery life and turn off/on 
LED color indicator lights allow you to monitor your voltage and battery life 
The best things come in small, powerful packages, LightingBolt weighs only 58g (2oz)
Price excl. VAT and shipping.