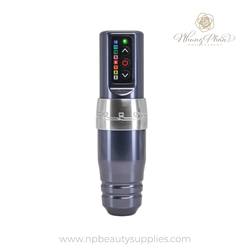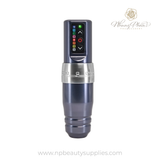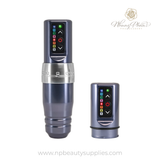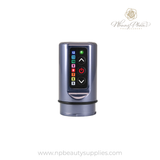 NP Beauty Supplies
Flux S™
The Flux S™ interchangeable battery lasts up to 12 hours and charges with a regular USB-C cord.
Optimized for PMU artists' needs, it is elegantly designed, manageable and lightweight for an ease of use that will unleash your abilities to a whole new level of beauty. 
Soon you'll be able to control the voltage using voice commands through new features on the Darklab app, which you can download for free on your cellphone. Other updates will increase your business efficiency, as well as helping avoid cross-contamination.
No cord, no power supply = less cross-contamination
Very easy setup
Switch sides effortlessly while working
New generation of brushless motors means it's lightweight: Only 6 ounces (170 grams)
Dynamic Power Path Management: Consistent power for more accurate work
Direct drive optimized for PMU: 3 mm stroke
Most of the weight is in the center
User-friendly, color-coded voltage display
Decrease and increase voltage by half increments
Voltage from 5 – 12 Volts
Detachable battery: Switch to the auxiliary battery.
Battery life: 10 - 12 hours with only 1.5 hours of charging time
USB-C port: Charge your device in your car, laptop or airport
Bluetooth enabled: Pair with DarkLab app
DarkLab app: Change voltage through voice, access tattoo time and receive firmware updates
Compatible with most membrane needles
Tapered grip: 28 mm
Handcrafted in the USA
Price excl. VAT and shipping.